YouTuber Tyler "Kwite" Wirkz is known for his over-the-top persona and always wearing sunglasses and a mask. But he was recently forced to reveal his face and do a serious response video to allegations made against him by a former friend.
Kwite recently addressed some serious sexual assault allegations from a friend known as Orion. Orion had shared a super long TwitLonger discussing his tumultuous relationship with Kwite before he became a more well-established YouTuber. According to Orion, Kwite was emotionally abusive and mean, even using transphobic language. Despite this, the two met up multiple times — and he claimed that Kwite took advantage of him one of those times.
Kwite reacted with a 1.5 hour YouTube video full of screenshots of previous conversations, denying any wrongdoing.
Community supports Kwite after seeing evidence
After reading Orion's long TwitLonger, Kwite was instantly attacked on Twitter and was labeled as a rapist. But Kwite's "For the Record" video had everyone doing a complete 180.
Similar to when Melee legend Mew2King was forced to reveal some serious and potentially embarrassing medical conditions to prove his innocence against allegations in 2020, Kwite decided to lay it all out there. He was not only forced to reveal his face, but admitted to being a virgin and having performance issues and tremendous anxiety when it comes to sexual situations.
Kwite also shared an abundance of screenshots of conversations between him and Orion that showed very much the opposite of what Orion had initially claimed. While Orion initially told people that Kwite was aggressive and using Orion for immense emotional support, the screenshots showed Orion often hounding Kwite to talk to him, pushing physical contact on him, and dumping his problems on Kwite quite often.
Kwite explained that he often felt very concerned for Orion and it seemed like he was often the only person Orion had while talking about family abuse, self harm, and suicide.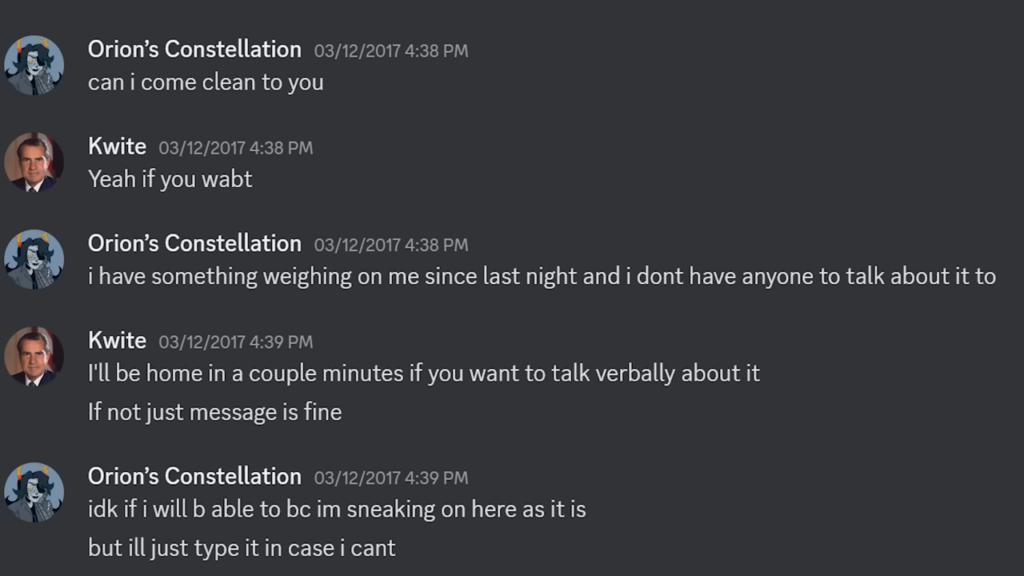 Kwite also discussed his history with Orion, explaining that his friend was hurt when he finally broke off the friendship when he realized he was happier without him. After the friendship ended, Orion would often align himself with content creators who talked poorly about Kwite and would even tweet that they had a lot of dirt on Kwite themselves.
Some private tweets also included Orion feeling betrayed by Kwite, claiming they had been there to support him only to be replaced when he blew up on YouTube. At one point, Orion also told people he was the one who came up with Kwite's sunglasses and mask persona, which Kwite denied in the YouTube video.
Ever since Kwite released his sensitive and revealing YouTube response, the community has largely rallied around him. It also helped when Charles "MoistCr1tiKaL" White made his own YouTube video discussing the drama in favor of Kwite, calling out the internet for quickly condemning him without having heard his side first.